Bellinger's bamboo rodmaking class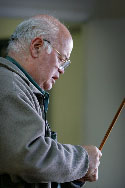 Sign up now with Bellinger owner and bamboo rodmaker Chet Croco and learn to make bamboo rod blanks from an experienced maker.
Making a bamboo blank with your own hands leaves one with an incredible feeling of satisfaction and accomplishment. Learning proper rodmaking fundamentals and technique from a seasoned rodmaker cuts down the learning curve significantly and puts you on your path much earlier in the process. Learning a method is easy compared to developing a method on your own. Getting a "heads-up" on how to set-up your own shop is a great benefit too. Remember; repetition makes habit and we are here to help you develop good rodmaking habits.
Over the course of 4 days you will receive one-on-one, individualized, hands-on instruction on sound rodmaking fundamentals and proper technique as you make your own 2-piece, 2-tip bamboo fly rod blank using Bellingers' full line up of bamboo rodmaking machines, tools and equipment. This is a full immersion class that takes place in our "Shirley's Tavern" bamboo rodmaking shop, where once stood a local landmark, where there is great potential that you will produce a blank that will exceed your highest expectation. You should finish class with a ready to wrap, ferruled blank complete with cork grip you've turned yourself and professionally fit ferrules that "pop". Remember it is you that is doing the work and learning something in the process!
The tuition cost for this 4-day class is $1,995 per student. We usually work with one student per class but we will accomodate two friends or family members upon request. As a bonus and incentive, you'll receive discounts on any Bellinger equipment purchased within 1 year of taking the class and qualify for special discounts on reel seats & ferrules. It's not all work we have fun too. Who knows whom may stop by for a quick story or what myths we may shatter or where we may wander in our down time (the cork must dry). Each student is expected to tell at least one story.
Among the many topics that will be covered are:
• Grading & selecting bamboo
• Flame tempering and heat treating
• Strip layout and node staggering options
• Node preparation
• The dynamics of tapers
• Sawing strips Vs hand splitting (it's no contest)
• Roughing, beveling and tapering under power (but you can use your form if you like)
• Overview on planing forms – layout and properly setting tapers
• Rodmaking fundamentals and proper planing technique
• Block plane sharpening techniques
• Operating your Bellinger glue binder – binding your
• Blank clean up, filing, sanding and straightening
• Ferrule station, reel seat and cork grip layout
• Lapping and mounting ferrules and turning cork grip
• Guide spacing and lawn casting
Class Schedule – Instruction usually begins Tuesday and ends some time Friday after you have lawn casted your rod. Because we primarily offer private instruction, we will work around your schedule as much as possible.
Contact us to Schedule! Email (preferred): chet@genuinebellinger.com