Instruction
Bellinger is teaching Bamboo blank making classes.
Over the course of 4 days you will receive hands-on instruction on the fundementals of making your own 2-piece, 2-tip bamboo fly rod blank using Bellingers' full line up of bamboo rodmaking machines, tools and equipment.
The tuition costs for this 4-day class is $1,200 per student. We usually work with one student per class but we will accomodate two upon request.
Among the many topics that will be covered are:
• Culm selection
• Flame tempering
• Strip layout and stagger
• Node preparation
• Tapers
• Sawing strips
• Roughing, beveling and tapering under power
• Setting your planing form
• Hand planing fundamentals
• Gluing and binding
• Blank clean up and straightening
2012 Class Schedule
Classes begin on Tuesday and conclude on Friday – in some cases the class can be held over through Saturday.
June 19-22
July 17-20
August 21-24
September 18-21
October 23-26
November- 27-30
December call for available date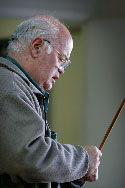 A Special Bonus!
As an added bonus Bellinger will apply up to 50% of your tuition costs toward the purchase price of a Genuine Bellinger Little Giant Rougher, Hand Planers Friend ™, planing form, planing form/ glue binder special or Genuine Bellinger Bamboo Gang Saw .
Space is limited so sign up early. All classes commence at 9 a.m. Tuesday and conclude at noon on Friday.